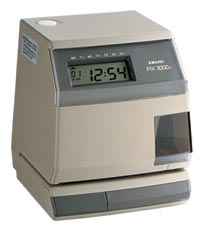 PIX3000 Electronic Time Clock

Brochure
Pay Period(s)
Weekly, Bi-Weekly, Semi-Monthly

Time Clock Print Format(s)
Year, Month, Day or Date, AM/PM or Military Hours, Regular Minutes, Tenths, or Hundredths.
Time Clock Features
Selectable for Manual or Automatic Printing, Automatic adjustment of Daylight Saving Time, Short Months, Leap Year, Quartz Clock Accuracy, Battery Backup for time and program, Easy to replace Ribbon Cartridge
Time Clock Specifications
Power Supply:
AC 120+/-10%, 60Hz
Temperature:
14°F (-10°C) to 113°F (45°C)
Humidity:
10% to 90% non condensing
Casing:
ABS
Power Consumption:
3W (avg.); 6W (max.)
Dimensions:
5.9 x 6.9 x 6 in (WxHxD)
Weight:
5 lbs.
Purchase items for this time clock:
R1400 Weekly Time Cards $49.00 ea.
14SD Bi-Weekly Time Cards $49.00 ea.
422 Semi-Monthly Time Cards $49.00 ea.
Time Clock Ribbon Cartridge $16.00 ea.